When we develop your website, we build it on our dedicated and fully-managed servers. If your website already exists, or if we haven't yet secured a domain name for you yet, you'll need to make a small update on your computer – essentially "tricking" it to point "mychurchname.org" to our servers.
Normally, domain name lookup is accomplished by communicating with computer servers on the Internet that are dedicated to the task. Those servers are called domain name servers (DNS). The hosts file enables each personal computer to act as its own local domain name server.
Once your website goes live, you can REMOVE this edit to your local hosts file.
Changing this file is only something you (and anyone else who wants a peak before your site goes live) need to do – once your site launches "for real", it will be available to everyone in the world who is connected to the Internet.
Some helpful videos on YouTube for those who like video help…
For Windows 8:
https://www.youtube.com/watch?v=6HtODhWg_YA
For Windows 7:
https://youtu.be/psQW6GqM444?t=4s
For Mac OSX:
https://www.youtube.com/watch?v=GmEwA0XMCm8
* Please note: If you are using OS X Mavericks you will need to use dscacheutil -flushcache; sudo killall -HUP mDNSResponder to flush your DNS.
Another good resource for editing your hosts file, with pictures, is available here:
https://www.howtogeek.com/howto/27350/beginner-geek-how-to-edit-your-hosts-file/
For Mac Users
Open up the Terminal application. Terminal is normally found in the Applications > Utility folder. If your can't find it, just search for "terminal" in SpotLight:

The Terminal gives access to the underling Unix directory structure of OS X, and looks like this: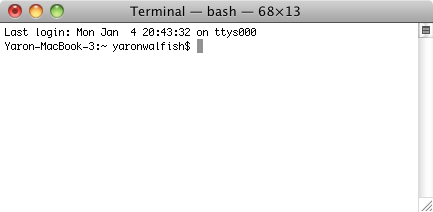 Once in Terminal, type the following command at the prompt and hit Enter:
sudo pico /etc/hosts
Here's what this means: "sudo" makes the command run with superuser privileges since the hosts file is a protected file, "pico" is a text editor, and the rest is the directory location and name of the hosts file.
After you've hit enter, due to the "sudo" command, you'll be asked for a password. That's just the password to your user account on the Mac. Type it and hit Enter.
Next, what you'll see is the hosts file from within the text editor: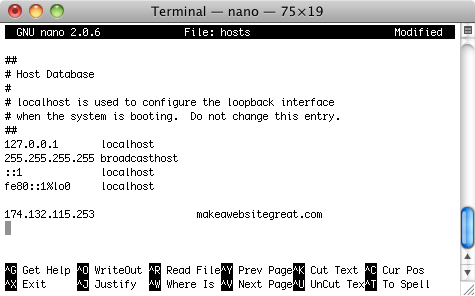 Notice the following line:

174.132.115.253     makeawebsitegreat.com
The numbers on the left are the IP address, and the domain name is on the right. You'll need to add the following line to your hosts file:
64.91.236.71          mynewwebsite.com
You'll have to use your cursor keys to get around that file and go to the last line. Your specific file may have other entries. Just add yours at the very end of whatever is there. The number of spaces or tabs between the IP address and the domain name doesn't matter.
Once you're finished editing, hit Ctrl-X to save and exit: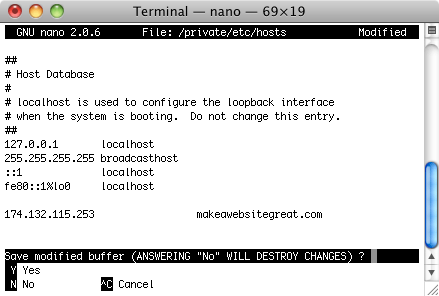 Enter y when asked "save modified buffer?" And after that just hit the Enter key to use the default file name.
One more thing – you'll need to clear any memory your computer has of this website if it's an address you've visited before.
dscacheutil -flushcache
Then, type in the command exit, and close the Terminal window.
For Windows Users
The path to the Hosts file in Windows 7 is:
c:\windows\system32\drivers\etc\
In order to edit your hosts file on Windows, you have to click on Start, type in Notepad and then right-click on Notepad and choose Run as Administrator.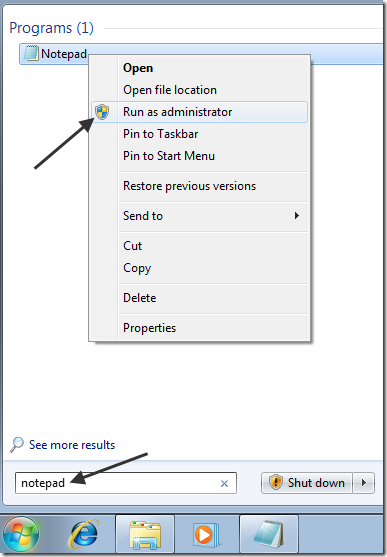 Now navigate to the c:\windows\system32\drivers\etc\ folder and make sure to choose All files for File Types otherwise you won't see the Hosts file.

Open the hosts file and make the following addition to the end of the file:
64.91.236.71          mynewwebsite.com
Where "mynewwebsite.com" is your domain name.
Click File and Save to save all changes.