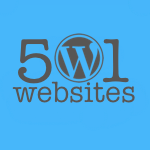 Our name:
We are dedicated to empowering non-profits with intuitive, affordable and effective tools. The Federal designation for non-profit corporations is 501(c), with an additional number appended after the (c) depending on the type of organization. 501(c)(3) is the most common designation.
We launched 501Websites in January 2012. Our goal is to build 501 of the most fantastic, useful, easy-to-maintain and most up-to-date websites.
We like to wear jeans.
Our experience:
The lifeblood of our company is our desire to serve. Because we work with organizations of every size, our team has a robust knowledge of the fundamentals of service – responding to the needs of those around us by listening to and observing what is actually happening. Asking questions is the core of our understanding. Our service model relies on observations specific to an organization (spending time within that organization to fully understand their unique mission and vision) combined with explanation and implementation of more general "best practices" based on over 20 years of experience across multiple organizations around the globe.
Our services:
Website Development
We build websites exclusively in WordPress (read why) built on custom frameworks using a dedicated WordPress install for each client.
Website Hosting
We host every website we build in a fully managed, guaranteed uptime environment. Websites are part of our Sonar Monitoring System that proactively scans for intrusions, platform updates, connectivity issues and more. All of our work is contained in a redundant Guardian Backup System that runs 24/7 continuous snapshots of your entire website. Our hosting includes unlimited support through a dedicated support channel for each client.
Website Content Management Service
In addition to our dedicated support channel (included with hosting), we offer a unique content management service:
Periodic scans of your website for outdated content, typos, broken links, navigation issues and general formatting
"On demand" posting of new content
Optimization of images, including editing, cropping, text overlay, and compression
Looking for a good read? Check out our vision statement…